REPRESENTED BRANDS









WHAT'S NEW
LED Candle Light Creativity For
A Malaysian Festive Season or Classic Wedding Dinner



As the festive season approaches, it is once again a time to beautify our home or workplace with ornaments and embellishments that emits the radiance of the festival. In a multicultural country like Malaysia, it is common that various festivals of different cultures share similarities in styles. The traditon of lighting lamps or "pasang pelita" is an essential part of Hari Raya and Deepavali which are festivals celebrated in Malaysia. As we modernize into a change of era, retro style oil lamps are slowly substituted with electric or battery operated lights that come in various shapes, colours and designs.

LED Candle Light is a stylish and classy new way to light up your festival celebration or wedding. The lights are available in Frosted Glass and Wax designs that emulates real candles. It is battery operated with capability to run up to more than 100 hours (depending on battery power). The LED light emits an amber colour tone and flickers like the real candle. Benefits of using LED Candle Light in comparison to real candles includes "No Flames, No Fumes, No Wax Mess" which is more convenient and eliminates the risk of fire as it is smokeless and releases no CO2 emission.


Creative Ways To Decorate LED Candle Lights

Our range of Frosted Glass & Wax LED Candle Lights are supplied plain without any design. It looks classy without any decoration, but it would be a great idea to express your creativity and add some embellishments on the LED Candle Light to make a perfect decoration for your festival or wedding. Nusantara style designs would be ideal for Hari Raya and Henna designs would also be great for Deepavali ... Modern Floral designs would also be perfect for candle light wedding dinners - (refer to picture below for example of designs).

An easy way to decorate the candles with your own creativity would be to paste stickers with your favourite designs such as logos, floral motifs, pressed flowers, shells etc. As LED Candle Lights are battery operated, there will not be an issue of wax melting away your design. If you would like to have a more classic and nostalgic finishing touch to your LED Candle Light, you may send the candle to a henna shop for a beautifully drawn motif. Alternatively, if modernism is your choice you may send the LED Candle Light to your neighbourhood print shop to get a "Print Transfer" onto the candle.






LED Candle Light Types


Product Specification
Battery: 2 x AAA
Running Time: Approximately 100 Hours (depending on battery power)
Switch: Button - Shake On & Blow Out
Light Color: Amber





Frosted Glass LED Candle Light






Shape & Dimension
- Egg (3"x3.5")
- Hexagon (3"x3.5")
- Square (3"x3"x3.5")
Wax LED Candle Light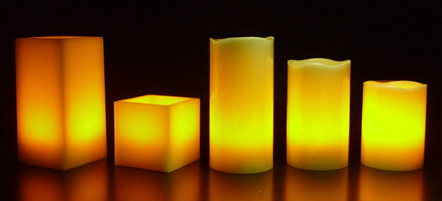 Shape & Dimension
- Cylinder (3"x4")
- Cylinder (3"x5")
- Cylinder (3"x6")
- Square (3"x3"x3")
- Square (3"x3"x6")
- Cylinder (3.5"x5")
- Cylinder (3.5"x6")




LED Candle Lights are currently available to customers in Malaysia by Cash & Carry in Bangsar -
Kuala Lumpur from Apple Blossoms Trading.

Alternatively, customers from Malaysia and Singapore can also receive the item by Poslaju / Express Mail Service (EMS) or Standard Air Parcel with additional shipping charges for Special Shipping Arrangement.



For further information and Request For Quotation (RFQ), kindly send us and enquiry to:
info@appleblossomstrading.com

or contact us by phone at +6-016-9828918 / +6-03-20959764


Apple Blossoms Trading (000893742-H)
34A, Persiaran Ara Kiri,
Lucky Garden, Bangsar,
59100 Kuala Lumpur, Malaysia
Phone: +6-03-20959764
Mobile: +6-016-9828918
Email: info@appleblossomstrading.com
Website: www.appleblossomstrading.com