WHAT'S NEW
Vintage Style Filigree Jewelry For Modern Fashion Wear



Vintage Style Filigree Pendant Necklace available at MiYeon Shop - Malaysia & Singapore (www.miyeonshop.com)



Filigree is a delicate and intricate form of ornamental metalwork, made with intertwined wire and beads soldered together arranged in artistic motifs. It is an art of jewlry antiquity that often resemble fanciful lace designs formed by curling, twisting or plaiting metal threads rather than chiselling or engraving the material. An intricate ornamental art form of ancient Greek and Etruscan, fiilgree has also great prominence in India. The filigree decorative style was also popular in parts of Europe such as Italy, France, Spain, Potugal and England as well as the Scandinavian regions of Denmark, Norway and Sweden.

Filigree jewelries are graceful and classy, its sophistication and intricacy radiates the elegance of the wearer. In modern fashion, an elaborate piece of filigree jewelry matched with a set of plain clothing emits an ambience of high end couture. Vintage style filigree jewelries such as pendants, necklaces, earrings, brooches or rings are very stylish fashion accessories not only for traditional costumes but also stylish for evening wears for special functions and dinners. Wearing vintage style filigree jewelries with a casual t-shirt and jeans is also a form of chic and modish contemporary fashion.




Vintage Style Filigree Pendant Necklace with Mock Polo Neck Short Sleeve Blouse (Black) available at MiYeon Shop Malaysia (www.miyeonshop.com)

Suitable to be matched with a plain colour long pants or elaborate emboidered flair skirt.



A collection of Vintage Style Filigree Pendant Necklace is currently available to customers in Malaysia and Singapore at MiYeon Shop (www.miyeonshop.com)


For more information, kindly send us and enquiry to info@mynworld.com

You may also purchase the item directly from our collection center in Bangsar - Kuala Lumpur.
Kindly contact us by phone to arrange for an appointment : +6-016-9828918 / +6-03-20959764




MiYeon Shop @ Concept Store by MYN World (002046570-P)
34A, Persiaran Ara Kiri,
Lucky Garden, Bangsar,
59100 Kuala Lumpur, Malaysia
Phone: +6-03-20959764
Mobile: +6-016-9828918
Email: info@mynworld.com
Website: www.miyeonshop.com



---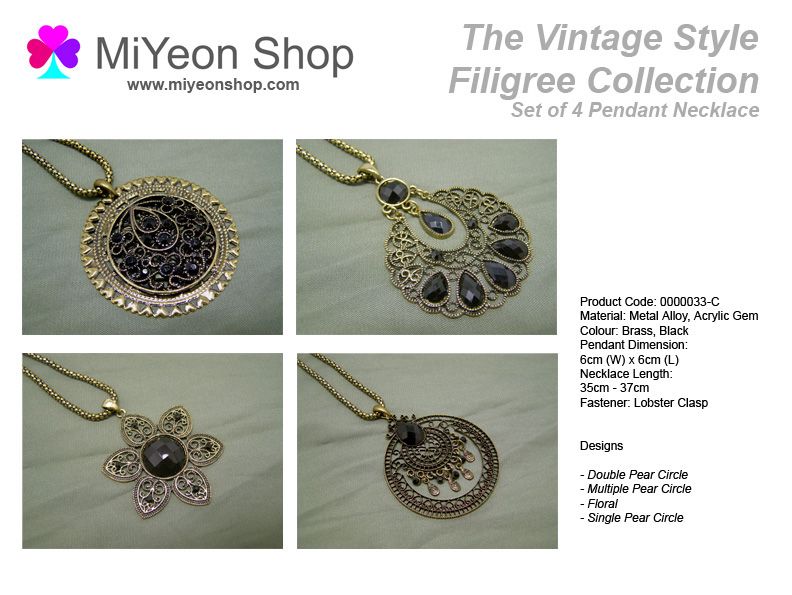 FREE Shipping Within Malaysia (PosLaju) & Singapore (EMS - Express Mail Service)

Price: RM138.80 / USD42.00 (approximately SGD53.50)


The Vintage Style Filigree Collection

Product Code: 0000033-C
Material: Metal Alloy, Acrylic Gem
Colour: Brass, Black
Pendant Dimension: 6cm x 6cm
Necklace Length: 35cm - 37cm
Fastener: Lobster Clasp

Designs
Double Pear Circle, Multiple Pear Circle, Floral, Single Pear Circle

Website
www.miyeonshop.com/0000033-C.php
www.miyeonshop.com/sg-0000033-C.php


---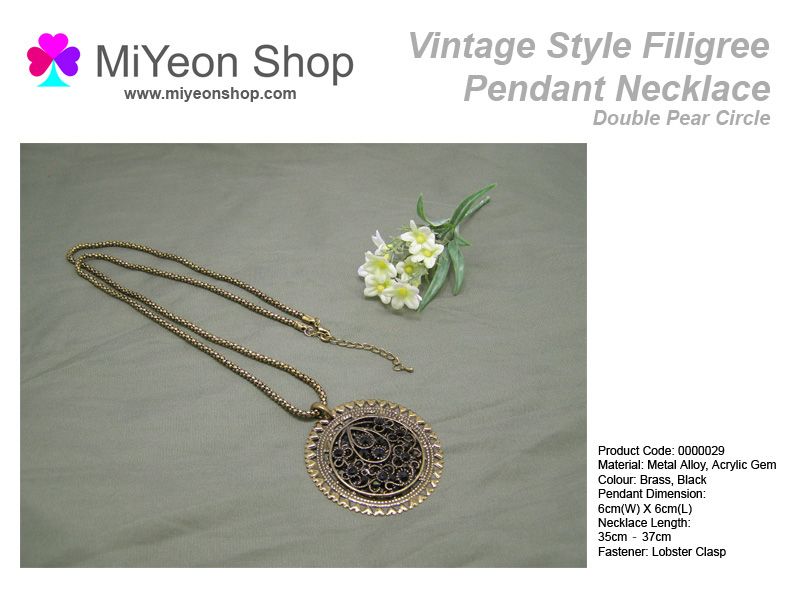 FREE Shipping ONLY Within Malaysia (PosLaju)

Price: RM38.80


Vintage Style Filigree Pendant Necklace
– Double Pear Circle

Product Code: 0000029
Material: Metal Alloy, Acrylic Gem
Colour: Brass, Black
Pendant Dimension: 6cm x 6cm
Necklace Length: 35cm - 37cm
Fastener: Lobster Clasp

Website
www.miyeonshop.com/0000029.php



---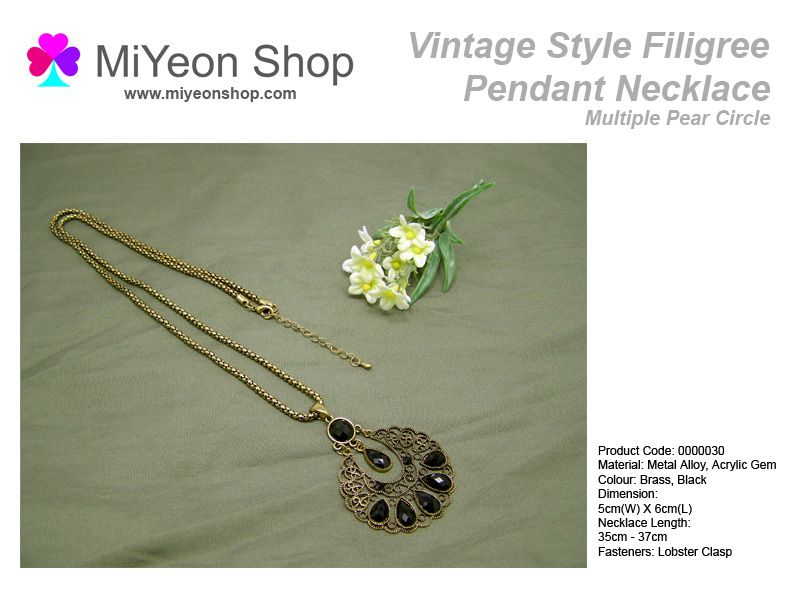 FREE Shipping ONLY Within Malaysia (PosLaju)

Price: RM38.80


Vintage Style Filigree Pendant Necklace
– Multiple Pear Circle

Product Code: 0000030
Material: Metal Alloy, Acrylic Gem
Colour: Brass, Black
Pendant Dimension: 5cm x 6cm
Necklace Length: 35cm - 37cm
Fastener: Lobster Clasp

Website
www.miyeonshop.com/0000030.php



---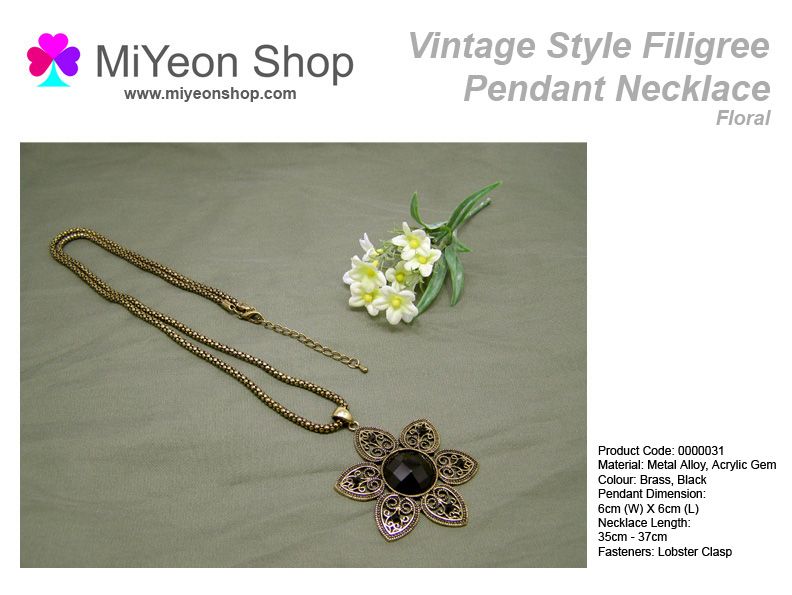 FREE Shipping ONLY Within Malaysia (PosLaju)

Price: RM38.80


Vintage Style Filigree Pendant Necklace
– Floral

Product Code: 0000031
Material: Metal Alloy, Acrylic Gem
Colour: Brass, Black
Pendant Dimension: 6cm x 6cm
Necklace Length: 35cm - 37cm
Fastener: Lobster Clasp

Website
www.miyeonshop.com/0000031.php



---

FREE Shipping ONLY Within Malaysia (PosLaju)

Price: RM38.80


Vintage Style Filigree Pendant Necklace
– Single Pear Circle

Product Code: 0000032
Material: Metal Alloy, Acrylic Gem
Colour: Brass, Black
Pendant Dimension: 6cm x 6cm
Necklace Length: 35cm - 37cm
Fastener: Lobster Clasp

Website
www.miyeonshop.com/0000032.php